ADA Vintage Cabins
2 Guests
250 sq ft
Ideal for more budget conscious travelersOur Accessible Vintage Cabins feature a cozy room with queen bed, small reading area and a covered, big timber front porch. These fully accessible cabins are our most modest in size and offer our lowest rates. They have been thoughtfully updated to modern standards and offer classic Evergreen style at an affordable price.
Amenities include private bathroom with roll-in shower, air conditioning unit, in-room Wi-Fi, Alexa device for in-room entertainment and music, phone, historic artwork, Keurig coffee brewer, electric kettle, refrigerator, feather pillows, eco-friendly bath products, hairdryer, iron, electronic safe and more. Cabins do not have kitchens as there is no cooking allowed in or around cabins or at campsites.
Check Availability
Amenities
2 Guests
Queen Bed
Bedroom + Reading Area
250 sq ft
Covered Porch
Accessible
Nature Views
Bathroom w/ ADA Shower
Air Conditioning
Wi-Fi
Alexa Speaker
In Room Games
Keurig Brewer
Electronic Safe
Mini Fridge
Typical Floor Plan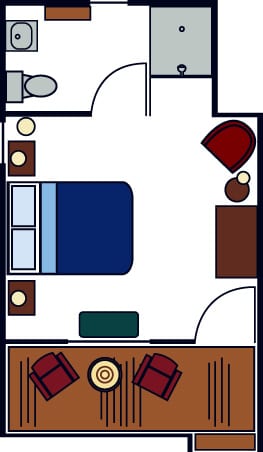 zoom in
Reservation & Cancellation Policies



Check-out is 11am and check-in is 4pm


Note that rates vary by season, with lower rates offered during winter months and higher rates during the peak season.


Please note that a two-night minimum stay is required during peak season (May-Sep). A two-night minimum stay is also required on weekends in April and October. A two to three-night minimum stay is required during holiday periods. Call for details.


All cabins are non-smoking. A $250 cleaning fee will be charged for smoking in cabins.


Guests are responsible for maintaining their cabin in good order and will be charged for damages to furnishings, fixtures, and supplies.


Indoor furniture must remain inside the cabin and not be brought onto the deck or other outdoor areas.


Pets are not allowed in or around guest cabins, in vehicles or on the property. For more details please see our pet policy below.


Cooking is not permitted in or around cabins or campsites.


Rates are subject to county hotel tax.


We cannot guarantee requests for specific cabins, though we'll do our best to accommodate you.


Security deposit is required at time of reservation.


John Muir House and Kay's Nest guests will be charged a cleaning fee of $250 if the house is left excessively dirty.


John Muir House and Kay's Nest guests are also responsible for loading and running the dishwasher before departure. A $30 fee will be charged for failure to do so.



Winter Schedule

Please note that the Evergreen Lodge typically

closes for the month of January

and reopens in early February. Our reservation staff is available

seven days a week

during this time so please call

(209) 379-2606

, email us, or reserve online.

Cancellation Policy



A one-night Deposit (including tax) for each room, is required to guarantee the room.


If cancelled outside of 7 days before check-in date, Deposit will be refunded less a $25 fee.


If cancelled less than 7 days before check-in date, Deposit will be forfeited.


Any modifications to an existing reservation are subject to a $25 Change Fee.


A one-night Early Departure Fee will be charged for early check-outs.



Pet Policy

While we are all pet lovers at the Evergreen, pets (other than service animals) are not allowed in or around guest cabins, in vehicles or on the property. Pets are often riled by forest animals (bears, squirrels, etc.), which can create potential conflicts with nature and disturbances for other guests. Pets also create issues for guests with allergies.

Please be aware that pets are highly restricted within Yosemite National Park – the National Park Service only allows pets on fully paved trails and roads on the Yosemite Valley floor, on a leash 6 feet or shorter, and they cannot be left unattended. They are not allowed at any of the lodges in the Park, and they are not allowed in Yosemite's High Country.

For all of these reasons, we cannot allow pets at the lodge. A $250 fee will be charged for violations. Please help us to enforce this policy by not bringing your pets with you on your visit. We appreciate your understanding.

For assistance please reach out to our team at 

info@evergreenlodge.com

.